Some links in this article contain ads that support my bicycling habit, dog obsession and the upkeep of this site. If you purchase anything recommended within this article, I will receive a small compensation. (ie"#ad or advertisement ) See the full disclaimer here.
---
—advertisement—
---
Quite often I am faced with the question by my clients, "How do I continue to eat healthily while I travel?" I generally have to assess what my client's priorities are and take the conversation from there.
What's your priority?
Whether you're traveling because of a vacation, work, family or a quick getaway, all too often, a trip away from our familiar surroundings can give us some trouble in our intentional healthy lifestyle. The decision to continue our nutritional healthy choices while abroad is different for each of us.
Some of us will admit that we have never given a second thought to how to eat once we leave the house. Nevertheless, we might fall into one of the following scenarios or somewhere in between.
1. Travel is really about the food, we just won't say it out loud.
We may just have begun our journey into a healthy lifestyle and it's come to our attention that traveling has been an excuse to make poor choices.
We've always navigated our vacations around food instead of the culture or the sights.
We've always taken those work trips seriously… We seriously look forward to the extra appetizer, chocolate cake, and the adult beverage that we normally don't have at home because it's on the company's tab. You say; "Anyways, how am I supposed to say no when everyone else at the table is doing it?" and "My wife's not here to slap that cake out of my hand!"
We believe that family holidays really aren't about visiting relatives at all but the food that will be served once we arrive. A family visit means that we fill ourselves till we are sick, lethargic and fall asleep while grandpa enthusiastically tells us all about his new lawn tractor.
---
2. Travel is about the destination, the food is a great way to enjoy it better.
On the other hand, there are those of us who have lived a healthy lifestyle long enough to realize that a healthy meal makes for a better trip in more ways than one. Once we realize that nutritious food is our friend the decision to actually eat healthily comes easier.
We don't feel lethargic after a meal so we can enjoy a lot more of the vacation rather than having to nap off that heavy lunch.
We are more "regular" so we don't feel bloated and uncomfortable.
We feel the overall higher energy that we quite enjoy, so making healthier food choices becomes more beneficial than consistently splurging and over-eating at every meal because it tastes good.
We have plenty of energy to follow grandpa out into the garage to fire up that new lawn tractor and take it for a spin, to his great delight!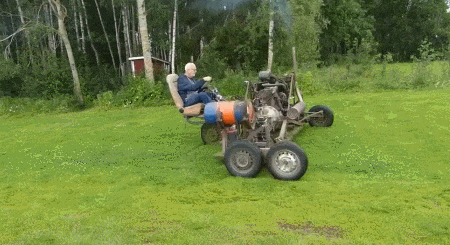 ---
Logistically Speaking…
No matter where we are at in our journey, once we've decided to take or keep our health at a higher level, we all face the dilemma of logistics.
How will I eat healthily on a budget?
How will I continue to eat healthily when faced with all of the local cuisine or airport food and those work meals that go on forever?
How will I say "no" to grandma's pie???
Never fear Elaine Magee, MPH, RD at Web MD says, "Don't leave your good eating habits behind when you get away from it all." She's got some great tips for you in her article "10 Ways to Eat Healthy While on Vacation."
Visit this article for the best tips for traveling:
Source: 10 Ways to Eat Healthy While on Vacation.
I hope you enjoyed the 10 tips. They create a game plan and a mindset as you pack your travel bag and head away from your normal environment of healthy choices. I hope that maybe the two mindsets listed above might've triggered a hidden way of thinking that you're not mindful of.
What are your recommendations for making healthy choices while away from home?
Tobi D.
---
Reference
Featured Image Photo credit: Breakfast@Itacaré, Alexander Brugger, Flickr, Creative Commons (text added)